YuruYuri、 (ゆるゆり、) is a YuruYuri Original Video Animation (OVA) commemorating the manga's 10th anniversary. It was released on November 13th, 2019.
Announcement
In April 22th 2018, a new original animation video has been announced for YuruYuri at the Pony Canyon official Youtube channel, the anime adaptation based on Namori's everyday life comedy manga. The new OVA celebrates the 10th anniversary of the original manga, which is serialized in Ichijinsha's Comic Yuri Hime magazine.
Although no concrete details for the cast, crew, and release date of the new OVA have yet been revealed, the official website for the YuruYuri anime has been updated. Additionally, it has been revealed that the new OVA is entitled YuruYuri Ten. The title (which is written as "YuruYuri、" in Hiragana) is a pun on both the english number "10" for the ten year anniversary and also the Japanese word "ten", which denotes a dot, spot, point, or punctuation mark.
Delayed release and a new set of staff members
The official website for the previously announced YuruYuri、 OVA has revamped and announced a new set of staff members. The OVA will get crowdfunded, which in return the participants will be getting a new CD that includes the opening and ending theme songs, Blu-ray version of the OVA, a signature illustration by the mangaka Namori, and more. It will be held from December 25, 2018 to February 15, 2019, and then, the official YuruYuri twitter account delayed it to August,2019.
In August 19th, the official YuruYuri twitter account revealed the final release date of the OVA. It is going to be released on November 13th, 2019.[1]
MiniYuri and YuruYuri X
At the pre-screening event of YuruYuri、 a mini anime series for the franchise was announced on the official YuruYuri Twitter. The anime, titled MiniYuri (みにゆり), will be a four-episode series with a runtime of 5 minutes per episode. The short anime will feature mini characters and debut online at a later time.
Also, Ichijinsha published an anniversary book titled YuruYuri X (ゆるゆりX), containing illustrations and comments from 45 artists and a new anthology, celebrating the 10th anniversary of the manga series.
Staff
Director: Daigo Yamagishi (Shinkansen Henkei Robo Shinkalion The Animation)
Script: Takahiro (Yuuki Yuuna wa Yuusha de Aru: Washio Sumi no Shou)
Character Design, Chief Animation Director: Kazutoshi Inoue (Release the Spyce supportive character design).
Music Production: Pony Canyon
Studio: Lay-duce
Production: Nanamori-chu Goraku-bu
Story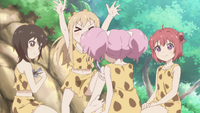 To commemorate YuruYuri's tenth anniversary for the manga's release, Akari, Chinatsu, Yui and Kyōko of the Amusement Club decide to reminisce on events of the past ten years, but inadvertently end up including the prehistoric era, showing the Amusement Club's members working together to start a fire and prepare a meal. When Ayano and Chitose arrive.
While Kyōko and Akari are quite happy to see them, Chinatsu and Yui are embarassed to have been seen doing this sort of thing. The girls sit down to discuss what to do for the tenth anniversary of YuruYuri, and ultimately decide on a party. they decide to host a party celebrating ten years worth of manga. They decide to help set up decorations for the party, and Himawari decides to help Chinatsu bake some cookies for the party. Meanwhile, Akari and Chitose continue with the decorations after everyone's left.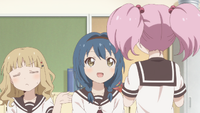 Himawari and Chinatsu spend time together baking cookies to impress Yui and win her affections, but ends up creating a concotion. So appalling is this creation that the contents are blurred out, and from what is seen, Chinatsu's cookies appear to contain swarms of things. Chinatsu asks Sakurako to try one, and it's an indicator of how terrifying it is when even Himawari is worried about what will happen to Sakurako after. While Sakurako may be more mature than she was at the start of YuruYuri, she's still envious of Himawari's bust and will not hesitate to make her displeasure known whenever something is against her favour.
Chitose is fond of imagining her friends in various raunchy situations with one another. Kyōko, seeing Ayano struggling to inflate a balloon, takes the same balloon and inflates it. Ayano blushes because of the implied kiss, but Kyōko is completely unaware of this.
After a day's of work, the Amusement Club's main room is properly decorated. The next day, the Amusement Club's party is under way, and opens with everyone sitting down to food. Chinatsu's cookies end up scaring Yui, but beyond this, have no long-lasting impact on her health, suggesting they look much scarier than they taste.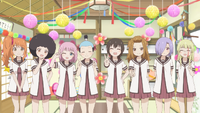 Kyōko's brought wigs for everyone and passes them out, allowing everyone to take on different appearances. Kyōko suggests rock-paper-scissors game which has losers act in a much more upbeat, high-energy level with each successive loss. While it's all fun and games initially, the others eventually grow nervous when Akari sustains several losses in a row.
Something like this cannot be attributed to pure chance anymore, and as Akari's efforts eventually has even Kyōko wondering when Akari will snap from being pushed too far. Eventually, Akari seemingly outputs enough energy to create a singularity and ends up in the void. Frightened and alone, she bursts into tears, but the spirit of her friends soon join her.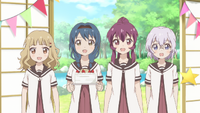 In the void, her friends remind her of all of the good she's done and precious memories they've created during their time together. They wish her a happy birthday before Akari wakes up back in the club room. It is more plausible to suppose that as a result of having to become increasingly high tension, Akari passed out from exhaustion. In the time that Akari is out, the other members of the Amusement Club prepare a cake and slide show to celebrate Akari's birthday, as well as her contributions to everyone's experiences despite being relegated into nonexistence in some cases.
In the post-credits, it turns out that the slideshow was made from photographs that Akari's older sister Akane. Akane's tendencies are questionable, and Kyōko worries about Akari finding out, so she simply opts not to tell Akari how they'd come to get the photographs. The Amusement Club then decides to figure out what their next activity should be, bringing the OVA to a close.
Official Announcement Video
References
Community content is available under
CC-BY-SA
unless otherwise noted.