Welcome to the YuruYuri Wiki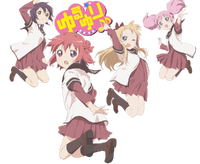 "Play it, girl!"
Hey! Get ready! Easygoing Yuri!
Welcome to the YuruYuri Wikia! This wikia is about the anime and manga YuruYuri, created by Namori. Anybody can edit and create articles here! So, please help us in any of our articles!
Did you know?
The characters in the series are mostly all girls, and Ganbo, the spherical robot in Mirakurun, is the only "male" character in the entire series, and he is not even a human.
The lyrics of the opening and ending theme songs for all seasons contain the word "YuruYuri" in them (except for Nachuyachumi OVAs and season 3's endings)
Protip

Don't remain anonymous!
On talk pages, don't forget to sign your name after you post!
You sign your name by putting four tildes like this:
~~~~
Affiliates
If you'd like to affiliate with us, leave a request HERE.
Template:Main Page/Contribute
Community content is available under
CC-BY-SA
unless otherwise noted.