Sakurako Ōmuro (大室櫻子, Ōmuro Sakurako?), also spelled Sakurako Ohmuro, is a character in the YuruYuri series who appears as a supporting character in YuruYuri, MiniYuri, makes a cameo in Reset!, and appears as one of the protagonists of Ōmuro-ke.
Appearance
Personality
While she applied for the position of Student Council, Sakurako is very lazy and usually unreliable. She has very short-term memory, usually nearly instantly forgetting most things she's told about. She's very resilient in doing her homework, and Himawari ends up doing most of it. She's also showed to be a glutton.
To make things short, she and Kyōko have very similar personalities, but unlike Kyōko, Sakurako doesn't seem to do well in school, often messing up her kanji writing and ending up writing completely different things than she initially wanted to. She's also much lazier, preferring to prepare pre-prepared food rather than actually learn to cook, as shown when she asked suggestions from Yui for what to prepare for dinner, Yui tried to suggest a simple recipe that Sakurako could prepare on her own, but Sakurako kept wanting to buy pre-prepared ingredients no matter what Yui suggested.
However, she's showcased as being quite sporty, a thing she teases Himawari about since the latter is not. Sakurako looks up to her veterans, especially Kyōko. She's showed to be very gullible, usually believing most things she's told about.
Relationships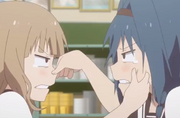 Sakurako and Himawari share a long-lasting rivalry, however, this wasn't always the case; During childhood, they were best friends who loved being around each other. They got along so well Nadeshiko decided to set up a make-believe wedding for the two. Sakurako is showed to still have kept some feelings for Himawari, even though they bicker and Sakurako teases Himawari's breast size.
Both Sakurako and Akari are unfavorable treatment in their clubs but Sakurako is in a different sense from Akari, such as being quite foolish, and not from lack of presence. They seem to be good friends nevertheless.
Sakurako and Chinatsu are both 1st years and appear to be good friends. Chinatsu visits Sakurako's house and doesn't seem to mind when the latter plays with her puffy hair, much to Hanako's envy.
They seem to bond well every time they hang out, as together they are a very silly pair.
Nadeshiko is Sakurako's older sister, who usually scolds for her lack of common sense or when she doesn't do her homework.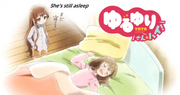 Hanako is Sakurako's little sister. Like Nadeshiko, she scolds Sakurako for her lazy behavior. She often has a quarrel with her when Sakurako drinks her milk or eats her yogurt. Though, she seems annoyed by her sister's actions or lack of, she does care for Sakurako's feelings and happiness and Sakurako cares about her. When Sakurako made porridge when she caught a cold. Sakurako even won her a pair of cow kigurumi pajamas, which she had been envious of. This is also seen again when Sakurako felt left out that her two sisters had pancakes without her. Hanako gets up early the next morning to make her pancakes. All and all they have a loving sisterly relationship.
Kaede is praised by Sakurako because she is kind and sweet "unlike" her sister. Although Sakurako likes her, Kaede is constantly making somewhat innocent yet annoying references to Sakurako's small breasts, such as comparing them to Himawari's. Kaede was taken "hostage" by Sakurako as a way to demand Himawari help her with her homework.
Appearances
Character songs
Trivia
The name Sakurako means "cherry blossom" (櫻) (sakura) and "child" (子) (ko).
Sakurako's surname Ōmuro means "big, great" (大) (o) and "room" (室) (muro).
Unlike Himawari Furutani, Sakurako doesn't mind snakes, but she can't stand cockroaches.
Sakurako likes Isobe fries.
Gallery
Video
Community content is available under
CC-BY-SA
unless otherwise noted.