Mari Funami (船見まり, Funami Mari?) is a character in the YuruYuri series who appears as a supporting character in YuruYuri.
Description
Mari is the daughter of one of Yui's relatives who often visits her. She is a fan of Mirakurun, though does not take kindly to Chinatsu after learning her personality doesn't match her image. Her favorite food is sea urchin sushi. and she is very smart for her age. Her first appearance was episode 6 in the first season.
Appearance
Mari is a little girl with dark brown hair with two small twintails. She has dull brown eyes and usually seen wearing a jumper with a collar button-up and later a hoodie underneath.
Relationships
Yui is like a big sister to Mari and Mari is fond of her. Yui cares for her little cousin dearly, as seen when she wanted Chinastu to dress up as Mirakurun for her as Mari is a fan. Yui is also the one to give Mari her first errand and watches her from afar to make sure she can accomplish it.[1]
Chinastu cosplays Mirakurun during her first meeting Mari, who was happy to meet "the real "Mirakurun." Though, she faintly thought she was a fake, her suspicions were confirmed when she overheard Chinastu break character, making her wary of her personality.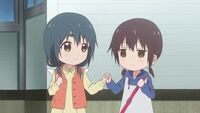 On a trip to the park with Yui, Mari met Kaede who is the same age of her and the two became friends. When Mari running her first errand, she runs into Kaede who is in fact doing her own first errand. They are both help each other along the way such as being able to stay strong when they run into a scary dog and Mari falls Kaede patches her up. (All while Yui and Kyoko and Himawari and Sakurako are watching them without their knowledge)
Appearances
Trivia
Mari's surname Funami means "ship" (船) (funa) and "to see" (見) (mi).
Gallery
References
Community content is available under
CC-BY-SA
unless otherwise noted.